Long Time Ago In Portland!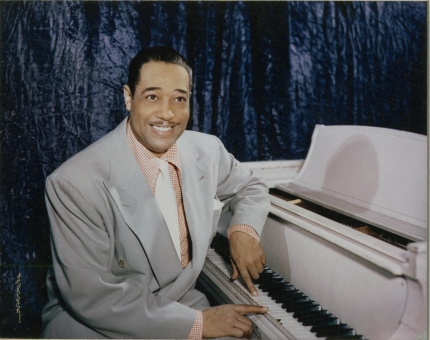 Our Piano Player
plays a medley of a couple of his most popular songs –  Do Nothin' Till You Hear From Me and Prelude To Kiss -and Jimmy Grissom gives a vocal version of Do Nothin' Till You Hear From Me.
After the Medley (where Duke steals most of the show and which is regrettably subject to a bit of distortion), Honeysuckle Rose is played with the  usual piano introduction by Duke, before the field is opened for Jimmy Hamilton's clarinet.
Next comes Isle Of Capri in an arrangement of Gerald Wilson, who has given it a Latin touch. Harry Carney and Quentin Jackson  are featured soloists. It is followed by Give Me The Right sung by Jimmy Grissom, who also is  heard on  Love You Madly, in which Rick Henderson is the soloist on alto sax.
Part 4 of this dance date ends with some well known  Ellington creations, namely Creole Love Call, Monologue and Mood Indigo (nc).
In the Goodies Room, you'll find this last part of the dance date from the Jantzen Beach Ballroom.